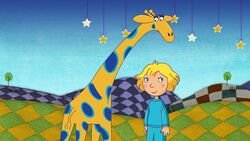 64 Zoo Lane is a show that features Lucy, a 7-year-old girl who lives next door to a zoo and embarks on magical night-time adventures with her animal friends living at the zoo. The show premiered on Monday, August 27, 2012 as part of Sprout's The Good Night Show lineup.
External links
Edit
Ad blocker interference detected!
Wikia is a free-to-use site that makes money from advertising. We have a modified experience for viewers using ad blockers

Wikia is not accessible if you've made further modifications. Remove the custom ad blocker rule(s) and the page will load as expected.