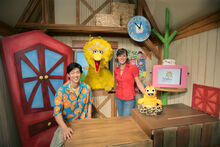 Sesame Street: Big Bird, Oscar, Prarie , Super Grover, Grover, Elmo, Abby Cadabby, Cookie Monster
ZOOM: David, Jared, Keiko, Lynese, Pablo (September 22 2012)
The Wiggles: Emma, Lachy, Simon, Anthony, Captian Feathersword
Bounce: Elizabeth
The Let's Go Show: Miles
The Chica Show: Mrs and Mr. C
The Sprout Control Room: Meeka (Banjo) Mgoats
The Goodnight Show: Nina, Star
The Sprout Sharing Show: Patti
The Fuchester Hotel- Elmo, Cookie Monster
Ad blocker interference detected!
Wikia is a free-to-use site that makes money from advertising. We have a modified experience for viewers using ad blockers

Wikia is not accessible if you've made further modifications. Remove the custom ad blocker rule(s) and the page will load as expected.