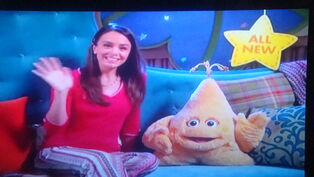 The Good Night Show is a television programming block on PBS KIDS Sprout which premiered on September 26, 2005. Programming starts at 6:00pm ET (5:00pm CT) each evening. Throughout the three-hour block, which is repeated once agin at 9:00-12midnght. Viewers (referred to as "Sproutlets") are encouraged to participate in host-led games, songs, crafts, and lessons in yoga and sign language. Activities and games generally revolve around a theme, and take place between theme-appropriate cartoon episodes. These themes include issues of interest to preschool children and their parents, such as imaginary friends, teddy bears, shadows, opposites, dreams, or babysitters.
The original host of the Good Night Show was "Melanie", played by Melanie Martinez. "Melanie" introduced cartoon episodes with the aid of "Hush", a live-action goldfish who served as the Good Night Show's mascot. In July 2006, Martinez was fired because of concerns over inappropriate dialogue in an independent short film in which she had starred several years earlier, before joining PBS Kids Sprout. Shortly before Martinez's departure, a new character was introduced to the Good Night Show: a large plush star-shaped puppet named "Star" (voiced by Stacia Newcomb), who provided the show with a naive, childlike character and sidekick. Melanie's UK version is Liz Gill as Stacy.
On September 10, 2006, Noel MacNeal debuted as special guest host "Leo". Both "Star" and "Hush" remained as recurring characters during his tenure, but the cast was also expanded to include "Lucy", a puppet firefly. MacNeal had a long background in children's television, including his portrayal of "Bear" on Disney's "Bear in the Big Blue House". the UK version of Leo is Sam Moran as Tom.
2006: Michelle Lepe debuted as Nina , and Pia Malano debuted as Tosha in the UK. same person who did "Min". on Barney and Friends. She left the show on December 22 2015, she returned as a guest in "Min's birthday" and a voiceover call in "Star's first holiday"
On December 20 2015, Jenna Wilson debuted as Nina's sister "Min". Both "Star" "Hush" and "Lucy" remained as main characters, Jenna also closes the show with a different poem. Wilson had a long backround for children's television, Including her portrayal of "Maddie" on "Maddie and friends"
Current Hosts
Edit
Michelle Lepe/Pia Malano as Nina/Tosha
Jenna Wilson as Min
Old Hosts
Edit
Melanie Marteniez as Melanie
Noel Macneal as Leo
Programs Bock in Goodnight Show)
Edit
6:00 Berstin Bears, Austroblast
6:30 Ruff-Ruff, Tweet & Dave
7:00 Nina's World, Lily's Driftwood Bay
7:30 Caillou
8:00 Maya The Bee, Pajamals
8:30 Caillou
2013: A Little Girl (Audrey) got arrested for playing with Squacky (Victor Yerrid) from Pajanimals
Nina appeared on Arthur in And Now a word from Kids to give a sneak peek behind The Good Night Show