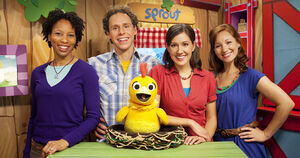 The Sunny side up show related. since the show is now Sunny side up , It now belongs to Silly School
maddie is on this show and some other sprout friends too like caillou, barney, roary, fifi, coo, and so many more
Edit
Jenna wilson was the first to start the birthday show , so she made a letter to sprout . and her dream did come true
even they had a birthday song i saw in the comments but i have not seen the show , just maddie and friends . and also the voice actor of maddie portrayed min on the good night show
Edit
Jenna appeared as Maddie on Sunny Side Up . to read birthday cards , get phone calls from sproutlets . and Sing songs.
Ad blocker interference detected!
Wikia is a free-to-use site that makes money from advertising. We have a modified experience for viewers using ad blockers

Wikia is not accessible if you've made further modifications. Remove the custom ad blocker rule(s) and the page will load as expected.